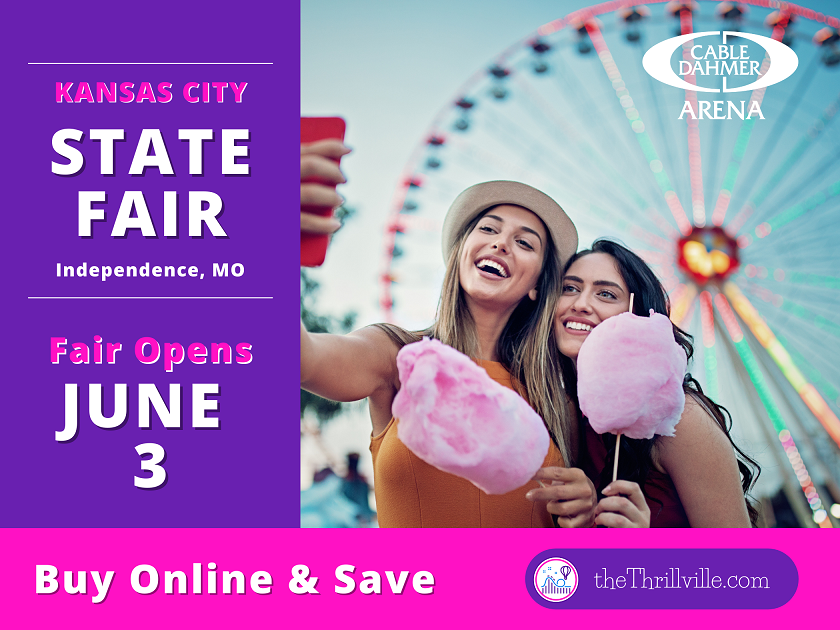 Event Info
The countdown is on for the inaugural Kansas City State Fair brought to you by Thrillville,LLC. This 11-day family fun fair will take place from June 3rd-13th. Customers will find the largest amusement ridesin the state as well as carnival food, exciting games, and free family shows including the Luau Logan's TroPIGalRevue, The Flying Pages, and Seal Lion Splash daily. The fair will be located at The Cable Dahmer Arena 19100 EValley View Pkwy, Independence, MO.

Complete Fair details, schedules, and advanced ticket sales may be found online at: theThrillville.com.

All grounds entertainment included with admission.
HIGH FLYING PAGES
The High-Flying Pages have been entertaining families around the world for over thirty years from the biggest circus festivals to a fair or festival near you. Our goal has always been to bring the best in family entertainment to audiences of all ages. We look forward to sharing our show with you in Atlanta because there is no better feeling in the world than families smiling enjoying the show just as much as we enjoy performing it for you. www.highflyingpages.com. 2 shows on weekdays and 3 shows on weekends, all included with admission.
Luau Logan's TroPIGal Revue
We are an agricultural-based, family-friendly variety show that features comedy puppets and performing animals. Our family has been performing for over 60 years. Luau Logan's Tropigal Revue is the newest addition to the "Pork Chop Revue," family which has been entertaining and educating audiences since 1956. Luau Logan & The Tropigal Revue carry on these traditions with hilarious puppet characters as well as performing pigs and goats. It's sure to be a crowd favorite!! So bring the family and be ready to laugh and learn in this all-inclusive, entertaining, family-friendly show.
SEA LION SPLASH
The Sea Lion Splash show features Kimmy, Zoey, and Syra. These girls are talented sea lions who live for applause and fishy treats from their trainers. Besides balancing balls, doing one flipper handstands, dancing, and performing, sea lion entertainers Kimmy, Zoey and Syra will teach the audience how to recycle, show off their natural abilities, and show how they fight back against natural predators. Free shows daily with paid admission. www.sealionsplash.com. 2 shows on weekdays and 3 shows on weekends, all included with admission.
CARNIVAL RIDES
North American Midway Entertainment (NAME) is an international company with corporate headquarters based in Farmland, Indiana. We provide rides, games, and food to fairs and festivals in about 140 communities in 20 states as well as four Canadian provinces. NAME prides ourselves on building strong relationships and helping every event we attend to grow in attendance and revenue. We are able to do this by focusing on providing the best midway rides, games, and food and ensuring that safety is always our number one priority.
We have more than 200 midway rides and games in our inventory. This means that NAME is able to offer clients many options to keep their event fresh each year. Another way we like to keep things fresh is by adding new rides such as the Star Dancer and the Double-Decker Merry Go Round. Both of these rides joined our arsenal in 2019. We always look forward to expanding to make sure that each year there is a new experience for you and your family.
For food, we offer a variety of fair classics from french fries to funnel cake sundaes. There's always something for everyone at a NAME event!
One of the things that we really pride ourselves on is our desire to be the best in the business. We do this through activities such as recognizing our employees through our award-winning "Magnificent Employee" program. We also make it a priority to create and maintain a clean and friendly midway for our guests.