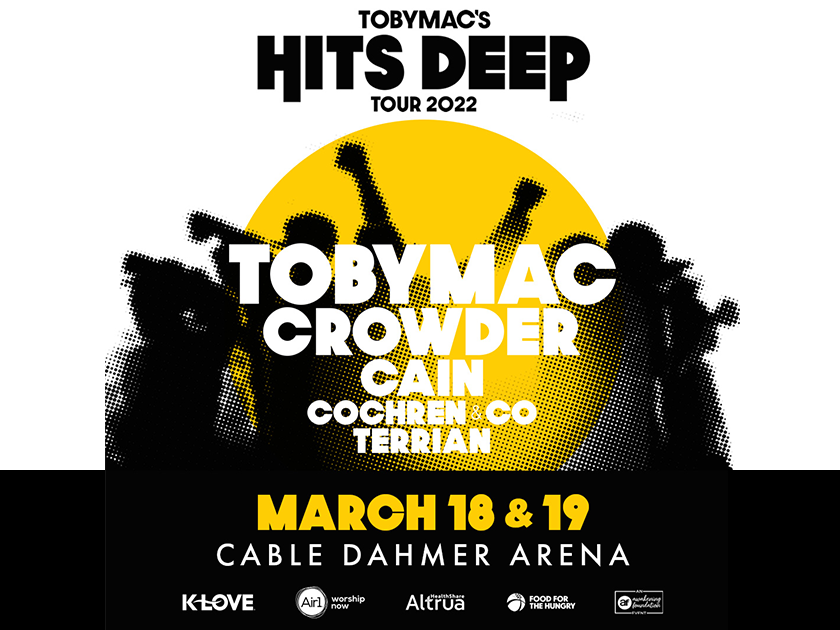 Event Info
The City of Independence does not require a mask. This event has not placed a mask, proof of negative test or vaccination requirement for the audience.
TobyMac Hits Deep Tour is back for another year! The 2022 lineup ft. TOBYMAC & the DiverseCity Band along with Crowder, CAIN, Cochren & Co., and Terrian. You do not want to miss this night of hit music and fun! Make plans now for a night you won't forget.
TobyMac Hits Deep Tour is supported nationally by KLOVE, and Air1 Radio, Food for the Hungry, and Altrua HealthShare.
Tickets go on sale Thursday September 23, 2021 at 12pm ET.
You can save 20% on all tickets from September 23 through September 27 when you enter the code INSIDER during our Fan Appreciation Sale!
COVID:
All Awakening Events / Awakening Foundation shows are required to follow local health and venue requirements as it relates to Covid-19. These may include but are not limited to vaccine and/or testing requirements and face coverings. Local Health & Venue guidelines are subject to change at any time. Changes in local Covid-19 health guidelines or Venue Policies are not grounds for a refund. Thank you for your understanding and please know that we take the health and safety of our guests, our employees and our community very seriously.
GENERAL DESCRIPTION:
TobyMac Hits Deep Tour is the unique idea of Christian Music Icon TobyMac. The heart behind Hits Deep is to bring music to the people with a diverse lineup of artists who not only have hit songs on the radio, but songs that hit deep into the heart of fans across the Country. With nearly a decade of history Hits Deep has become one of the largest most anticipated annual events in the Christian music genre impacting thousands of people each year. With awe inspiring production elements and a lineup including CROWDER, Cochren & Co, CAIN and more, Hits Deep 2022 is sure to be one of the best yet.